Structured data can help you to send the right signals to search engines about your business and content
What is structured data SEO?
Structured data is a way of organising your content in a way that the search engines can understand it better. It is similar to meta titles and meta descriptions. Meta data is a Technical SEO aspect that helps the search engines understand what a page is about with a brief title and description.
The above shows some meta data for www.seostrategy.co.uk and www.seostrategy.co.uk/consultant-services/southampton/. Google has the power to produce versions they feel more appropriate to the search request. However, it is a site owners chance to stipulate a summary of what they feel the page is about and include relevant and appropriate search terms. Structured Data, Schema.org, JSON-LD allow site owners the chance to take this one step further with different types of content to help the search engines understand your content even further.
Is structured data a ranking factor?
There doesn't appear to be any clear confirmation that structured data is a direct ranking factor or will provide your site with. a ranking boost. However, it does help communicate to search engines what your webpage and content is about. Therefore, it is a useful practice to include as part of your overall SEO strategy. Particularly if your website and content is genuinely useful and your competition is missing a trick by not having it.
What is Schema.org
The definition of Schema from the schema.org website is as follows:
"Schema.org is a collaborative, community activity with a mission to create, maintain, and promote schemas for structured data on the Internet, on web pages, in email messages, and beyond. Schema.org vocabulary can be used with many different encodings, including RDFa, Microdata and JSON-LD. These vocabularies cover entities, relationships between entities and actions, and can easily be extended through a well-documented extension model. Over 10 million sites use Schema.org to markup their web pages and email messages. Many applications from Google, Microsoft, Pinterest, Yandex and others already use these vocabularies to power rich, extensible experiences.Schema.org vocabulary can be used with many different encodings, including RDFa, Microdata and JSON-LD.
Should I use Microdata or JSON-LD?
Google has made it clear their recommended option for structured data, wherever possible, would be JSON-LD.
FAQ Schema
FAQ schema was one of the first that SEOs experimented with. One of the benefits was that your questions and answer content could be displayed within the SERPs (Search Engine Results Page).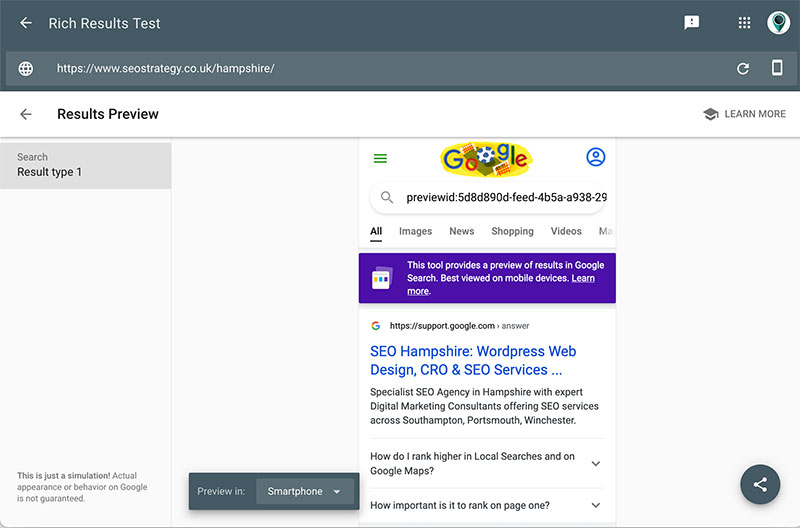 As you can see in the above screenshot, the result for one of our web pages is enhanced by having two FAQs displayed. This can create a good impression and possibly encourage a click through. There are some that may argue that the searcher may find the answer the were looking for without having to click into your site. This is obviously a shame, however, from a brand and authority building point of view, Google has decided to use your site. So to neglect schema mark up could be an oversight to regret. Google only shows two questions so for those queries that have a fair bit of content within the subject matter this could definitely lead potential visitors to your site. If Google is trusting your site enough to display answers in the SERPs, this is a good sign to a potential visitor you would be a site they could trust.
There are quite a few different schemas such as FAQ, Organisation, Event, Local Business, How-To, Video Object and many more.
How do I add Schema Markup to My Wordpress Website?
There are different plugins and ways to add in schema mark up to your wordpress website. The solution you opt for may be different and dependent upon the theme or framework that you use. A plugin does tend to be a simple solution for most. One way would be to use a site like https://technicalseo.com/tools/schema-markup-generator/ to generate your schema(s). Then use a plugin such as Insert Headers and Footers to place the schema into the head of your webpage.
PITFALLS: Using schema on a page by page basis is wise rather than applying it globally to all pages. To check your schema has been applied correctly you can use the Rich Snippet Testing Tool. However, Google Search Console is brilliant for indicating any errors or issues with your schema. Also, for FAQ Schema Google has offered advice to not repeat the same FAQs across multiple pages. Logically though this does make sense. You may want to include them on your pillar pages (sometimes called power pages). These are pages that act as topic hubs that cluster related content. However, if you have a very specialist, technical sub page have separate FAQs could be warranted and useful. But the same questions repeated across several pages could be confusing to Google as to which page to display.
SCHEMA PRO
This is by no means an endorsement and this is a premium plugin. However, for our clients, simplicity and ease of use is paramount. This plugin does seem to offer that for being able to quickly implementing schema, the different types and select the pages / posts etc you want it to appear on.
There can be an element of going OTT with schema markup so use it to enhance key attack pages first. However, this comes with a caveat to ensure those pages are quality pages. Video is a great way to enhance a page and being able to include this schema adds another tick. YouTube is the second search engine so you'll want a good connection between your website and your YouTube Channel. If you are unsure about schema, you may want to ask an SEO Consultant or agency to assist. Google Search Console as we've said before is great for flagging issues and errors so it is wise to check this. If you'd like to get in touch with us, send an enquiry through our form on our contact us page.
To find out more about how structured data works and some guidelines, you may want to visit: https://developers.google.com/search/docs/advanced/structured-data/intro-structured-data and https://developers.google.com/search/docs/advanced/structured-data/sd-policies