Experienced Digital Marketing & SEO Consultant Hampshire & London
Here is a quick background on how I got into the challenging yet rewarding world of Digital Marketing, Freelance Web Design and SEO Consultancy.
I secured my first job after doing a degree in Corporate Communication in 2004 within marketing as an assistant mainly proof reading adverts and posting adverts to online Job Boards. This quickly progressed and by 2005 I was project managing large website builds which sparked my interest in web design, Google Ads and SEO, which led me to building my first website. But since then I championed my personal motto of: "What's the point of a pretty website, if no one can find it".
The landscape of digital marketing and search engines has changed massively in that time but the fundamentals and underlying concepts have remained pretty much the same. Build authoritative brands that search engines can trust to send their searchers to and you can't go too wrong. I've seen a lot of deceptive tactics used in my time to only seem them fail. Link building is one tactic I am personally reluctant to engage in or certainly one I look at later especially in very competitive markets. Digital or Social PR where you gain mentions or link backs from reputable players within your industry is certainly worth the effort. If the focus is on the content, usefulness and benefit to the audience, the valuable exposure tends to be byproduct that comes along with this effort. Focusing only on gaining a link doesn't sound like a credible effort from an authoritative brand.
Sean Mullins
Personal Profile
You can check out my LinkedIN profile here. I've been very fortunate to be recommended by professional connections and friends and family. I certainly champion the power of networking and personal recommendation but it's important that is is backed up online i.e LinkedIN Profile, Twitter, Google Reviews etc.
In my spare time I do gymnastics (tumbling) twice a week and am a qualified gymnastics coach but currently just train for fun and to keep me sane and away from the laptop 🙂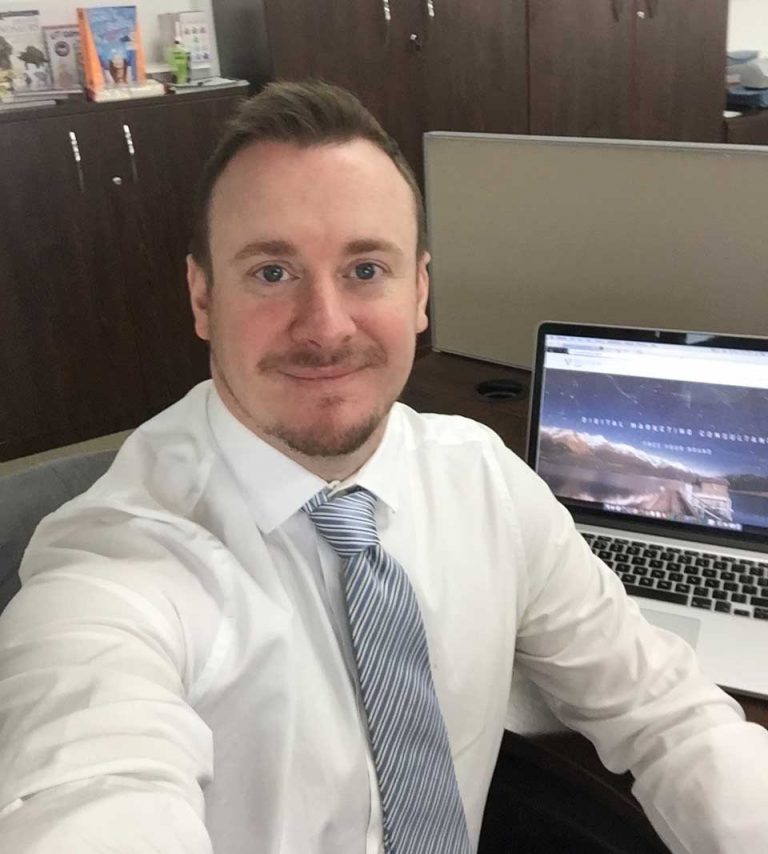 Sean Mullins
SEO Consultant (Director)
Providing Professional SEO Consultancy Services in London & Hampshire since 2006
Being an established SEO Professional with experience dating back to 2005 I've been fortunate to deal with companies all over the country. London is easily commutable from Southampton. With London Waterloo only taking just over an hour. Digital and SEO Services are centred on results and visibility, so it doesn't particularly require someone looking over your shoulder or even daily meetings. You will see the results (or lack of) on your screen for yourself. However, communicating updates, progress and what efforts are being made is important. We are results focussed and pride ourselves on good response times.
Freelance Web Designer Southampton, Hampshire
Being able to build a website at a time people weren't that bothered by them but felt they should have one. I was able to earn extra money by freelancing and building sites. By building little local website; dog walkers, electricians, beauty therapists, recruitment companies etc. I was able to build up quite a solid portfolio in my spare time.
In 2009 I worked for The Co-op (The Southern Co-operative) building their websites across Food Retail and Funeralcare. I acquired a CIM Diploma in Marketing and a PRINCE2. I then went to work in the B2B sector where I was able to fine tune my Digital Marketing, Web Design and SEO skills. I've always 'lived' digital and aim to keep at the forefront of latest tools and technologies. I believe having a corporate background has provided me with a real focus on ensuring I don't just build a site, I get a buzz out of developing websites that becomes a useful tool and beneficial to your business.
As a local SEO Freelancer, I've aimed and continue to offer the most effective services within the digital toolbox such as web design, SEO, Content Marketing, Conversion Rate Optimisation, UX and more. My specialist Digital Agency places an emphasis on ensuring your brand and business is presented how you intend and is perceived how it should be. Our ethos of 'Build, Promote, Convert' beautifully encapsulates this.
2014: A Leap Of Faith
By 2014, I was juggling my full-time job as a digital marketing manager, my freelance work which was becoming like a full-time job and a gymnastic coaching course. It was evident something had to give or I was going to hit burn out. So I handed in my notice, entered the world of full-time freelance and haven't looked back since. Not having a full-time job allowed me to contract to agencies across Hampshire (Eastleigh, Winchester, Portsmouth etc) and I even managed to gain my first retained client who just so happened to be in Manchester. Olliers Solicitors have been forward thinking and embraced remote working and were happy with the virtual digital agency format. During the Covid-19 it has certainly brought remote working to the forefront and arguably accelerated growth for this area. It seems it is changing perspectives when it comes to virtual agencies and working. There are definitely advantages and disadvantages but for an agency providing digital and SEO services where results are measured and visible online it makes sense for The SEO Strategy Agency to have adopted this model and it did back in 2014. We never want to write off the value that face-to-face meetings can provide but it's about working SMARTER and maximising effectiveness by placing time and effort where it is truly needed.