Hosting for Superior Site Page Speed and SEO
Why are fast sites important?
According to Kissmetrics, 47% of website visitors expect a page to load in two seconds or less. Kissmetrics' analytics say that 40% of visitors will abandon a site that takes more than three seconds to load.
This leads to the question;
Why a Good User Experience Is the Most Overlooked SEO Strategy?
Google strives to promote a positive user experience. If they constantly sent visitors to sites that took over 10 seconds to load, this is going to annoy a great number of people. Any search engine wants a happy user base so they come back time and time again. Google is not the only search engine and this is important to remember (DuckDuckGo, Bing, Yahoo, AOL, Baidu, Yandex etc).
What is web hosting?
Web hosting is when a web hosting company (Go Daddy, 123-reg, 20i.com, WP Engine etc) allocates space on a server for you to sit your website files. So to use the analogy of a house where your website is the house. Hosting would be the land your house is on. The domain would be the address of your house. So when you buy a domain, you need to point the records to your webspace. Then have a hosting plan to be able to start building your site. A Wordpress site requires a webspace and a mySQL database. One of the easier ways to access a database is via phpMyAdmin.
Hosting considerations for SEO
For anyone choosing a hosting supplier one of the main considerations may be price, which is a sensible consideration. Usually the cheapest isn't the best option. But we would say the most expensive option also isn't always be the best either. The focus should be about finding a hosting solution that is fit for purpose.
Hosting considerations in regards to SEO would be aspects such as security, reliability / uptime, server location, performance and speed.
Security is a visitor concern and non surprise one Google and search engines alike place emphasis on. A site that is constantly hacked will be flagged within the SERPs even before the user decides to click into the site. An SSL certificate is a must have these days. What this does is load your website with https:// as opposed to http://. It's a security feature that Google has encouraged for quite some time. Browsers such as Chrome will indicate to a user a website is not secure if it does not load in https:// with an active SSL certificate.
Core Web Vitals
As part of the Google Page Experience Update, core web vitals have become ranking factors. Superior hosting can certainly help achieve higher performance scores.
The below screenshot is an example of the result for this page using the Google Page Speed Insight tool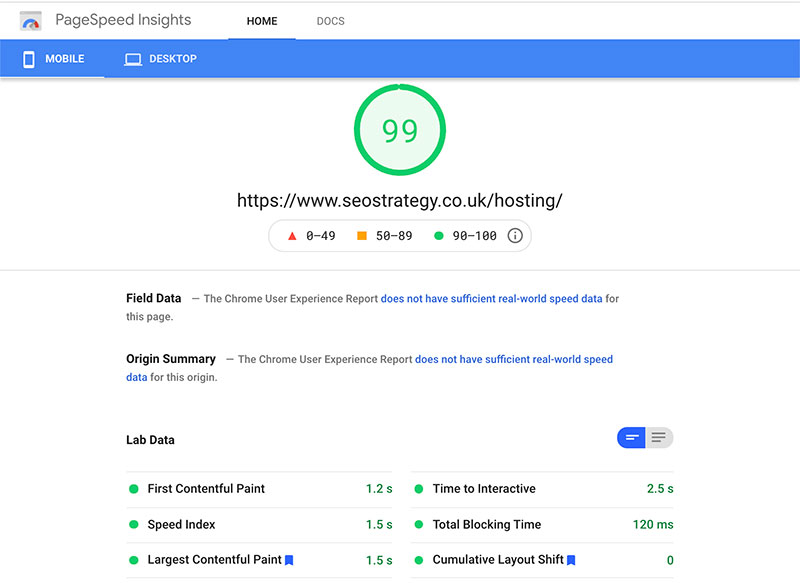 The below screenshot shows the results of this page using web.dev. This tool as provides on-page factors to help improve user experience such as accessibility, best practices and SEO.
Get in touch
Interested in Wordpress Hosting Options