Optimising your Google My Business (GMB) Listing
What is Google My Business?
Google My Business is a free listing that helps users get their business found online in local searches. It enables you to advertise your business including photos, opening hours, link to your website and post updates. It  even allows your customers or clients the chance to review your business. Below is an example of our Google My Business.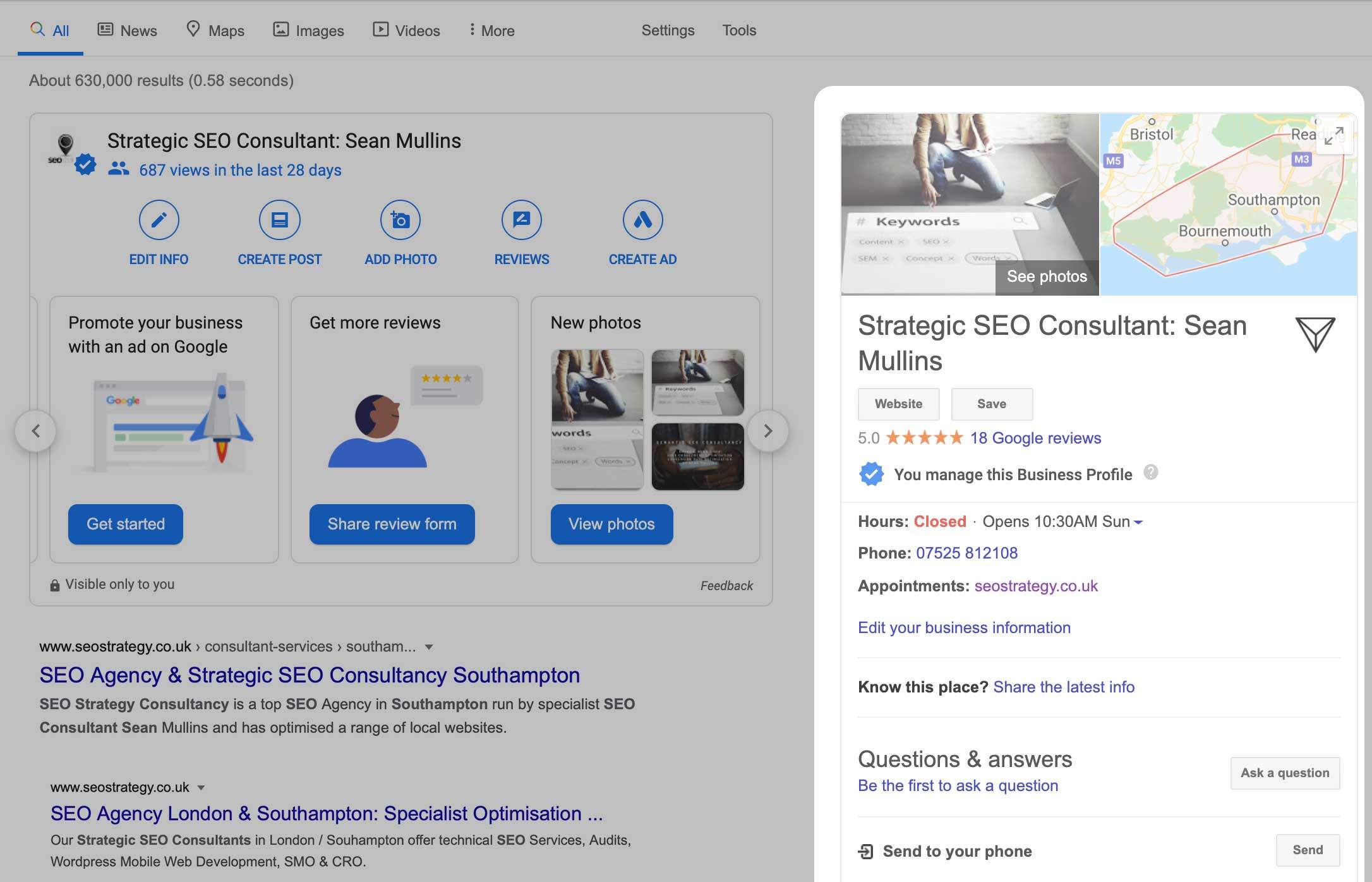 Is Google My Business good for SEO?
The short answer is Yes. Specifically it is good for Local SEO. So if you're a business in Southampton for example, you'd want to be found in Southampton. Appearing in the top 3 Map 3 results can will mean more impressions and visibility of your business. Hopefully, it will lead to a quality website visit and conversion.
So what is Google My Business optimisation?
It's the process of ensuring your GMB listing performs as best as possible. It's a key aspect within Local SEO and it's important no opportunities are missed. Whether you're a hair dresser, dog walker, electrician, therapist etc it is important you are found in local searches. You may want to give it a go yourself and you can click here for an excellent guide by Search Engine Journal. If you'd like us to manage your GMB optimisation please do not hesitate to get in touch by sending us an enquiry on our contact us page.
Google My Business Advice and Tips
For those attempting to do this themselves we have some advice for you. Our number one tip is to not try and fool Google by submitting fake 5 star reviews. Even if you have access to several google accounts, if you submit reviews in short succession all from the same location (IP), this could potentially have your listing banned and removed. At the very least they will be ignored as spam but it's better to be safe than sorry. 
Reviews are fantastic as long as they are legitimate and it's advised that you reply to your reviews. It looks professional and gives a good impression to potential new customers or clients.
Complete as much of the listing as you can and ensure to create a username. Upload your logo, cover photo along with any other additional photos (you can even upload a video). You can also keep your GMB active by using their useful 'create a post' feature. 
One final bit of advice is regarding NAP consistent. NAP stands for Name, Address, Phone number. You'll want to ensure that there is consistency with these three aspects on social profiles and local directories. Another tip is make sure your website is correctly, especially if you've moved your site to have an SSL certificate so it now resolves https://. Even though you probably have a redirect from http:// to https:// it's good preference to have the links into your site not relying on that forward rule.
Some Frequently Asked Questions
Is Google My Business free?
Yes. You will need to create a Google account that is also free. There is now a feature in Google Ads to promote your GMB listing, this is not free. But can be effective way to promote your GMB, especially if it is newly created and local SEO or GMB optimisation haven't kicked in yet.
Do you need a website to use Google My Business?
No you do not need a website. GMB actually has a tool that allows you to create a very basic web page until you have a website. Our advice is to apply for Google My Business as soon as possible.
What do you do if you don't have a business address but don't want to advertise your home address?
This is fine. You will need to supply an address to verify the listing. A google postcard will be sent in the post with a 5 digit pin number. You can specify the catchment area that you serve while hiding your address.
How often should you post on Google My Business?
The posts will expire after 7 days. We advise at least one a week. This will keep your GMB listing active. 
What is NAP?
NAP stands for Name, Address and Phone Number. NAP consistency is important. So if you have multiple GMB listings you'll want to ensure your name is consistent. Then on social profiles and directory listings ensure the NAP are consistent.