Do Law Firms Need SEO?
It would be misleading to say that every law firm does need SEO. However, there are many benefits that SEO can offer which law firms can benefit from which we will explore in this article.
Google Ads vs Organic SEO
A quick way to start sending relevant traffic to your law firm's website could be by utilising Google Ads. To appear in the top four sponsored results of the SERPs (Search Engine Results Page). The downside to Google Ads are:
Some people do not trust Google Ads and scroll down ignoring them
They can be extremely costly (i.e London Law Firms can cost £20 PER CLICK)
If not set up correctly it is easy to waste budget (i.e higher cost per clicks due to poor quality scores or negative keywords attracting traffic for unwanted / irrelevant terms)
However, even with high organic rankings (these are below the four Google Ads and the map locations if they are present), Google Ads still may be a consideration. For those firms that may have a high usage of users coming in from mobile devices, it may pay to have a presence within the Google Ads which take up a lot of the virtual real estate space on the SERPs.
The above image shows an example of when 'Best Law Firms in London' is googled. The top listing is a paid for Google Ad by Slater Gordon with an image extension. They have also opted to appear in the map results. As you can see there is a lot of space taken up by the Ads and Map listings before the organic results are reached.
Google My Business / Local SEO Opportunity
The above example screenshot illustrates the importance of having a Google My Business to appear within the Map results. Local SEO compared to National SEO tends to be more achievable from an SEO perspective to get to page one. So for example, Law Firm + Location vs Law Firm.
The above shows monthly search term volumes. Law Firms with no location has 6,600 monthly searches. With aspects such as Google My Business, NAP consistency etc it can be easier to create context that can achieve local SEO rankings. London searches can perform really well and the above data supports this with 'law firms london' garnering 4,400 monthly searches. Arguably there tends to be a conception that London is synonymous with better. Also, London has a higher concentration of law firms which makes it a more competitive location. For more information on Google My Business and how to effectively optimise your listing, please visit our dedicated page by clicking here.
Owning Your Niche
If your firm has a niche it can be worthwhile focussing on creating context to demonstrate this. Also, your content marketing strategy could be biased towards your niche area. It's important to demonstrate the area of law and related aspects. The pitfall is to avoid spamming a particular search term. For example, ranking on page one of Google for 'Criminal Lawyers London' could be potentially be very profitable for a firm. However, having pages that only discuss criminal lawyers in London and repeating the term over and over will more than likely be classed as poor quality and rank poorly as a result within the SERPs. Using the example of Criminal Lawyers. To demonstrate related, relevant aspects of this subject a logical aspect would be to cover the offences that fall under criminal law (i.e Murder, Fraud, Sex Crimes etc). The more you can drill down and demonstrate expertise the better.
E.A.T your Goals
E-A-T is an acronym in SEO that stands for expertise, authoritativeness and trustworthiness and relates to how Google ranks webpages in the search engine results page (SERP). E-A-T derives from Google's Search Quality Rating Guidelines which is designed to establish what it takes to create a good-quality website which ranks well.
From a law firms perspective you'd want to establish online that you are a leading authority within your specialist area. For example, if sentencing guidelines change this could be something as a specialist law firm you could write an article about offering explanations and insights and then sharing across your social channels. Using trusted social media platforms (Linkedin, Twitter, Facebook, Instagram, Pinterest, youtube etc) can really help amplify your content and cement your brand name and presence online.
YouTube is your friend
YouTube is the second go-to search engine. Arguably, video content is more engaging than a long page of text and can really help educate and inform a user about a topic. Creating a strong connection between your YouTube Channel and Website can be a positive for organic SEO. A good example of this would be Olliers Solicitors. They are a leading Criminal Law Firm with specialist Criminal Solicitors. Their channel focusses explaining aspects of the law within short videos. Below is an example of a video that covers the question 'Do I have to give the police my phone password?'
Ethical SEO: Write for people, Optimise for Robots
SEO can reap big returns. This has led to deceptive tactics such as keyword stuffing and questionable spammy link building to 'fool the system'. Google is wanting to serve users with genuine, credible content from sources / brands they can trust. When writing articles and web pages the focus should be on how easy is it to understand and how useful and informative is it. The byproduct of this focus should be shareability and engagement. Quality content with a strong hook should hopefully garner user interaction (shares, comments, retweets, likes etc). Strong engagement across trusted social media platforms creates a signal that can help Google understand your brand is credible and one to trust.
'Optimising for robots' is where a technical SEO specialist could help ensure your quality content is being understood as best as possible by the search engines. For example, FAQ content is very useful to a user but when a site uses schema markup this can help the search engine read this content easier and also use it to feature in the SERP results. Google has a free Rich Snippet Testing tool (shown below) to check if your schema mark up validates correctly. If you are a firm that spends time and effort on your web content and articles, it's worthwhile checking your site and content is optimised giving it the best chance of ranking as high as possible and not being let down by technical oversights or errors.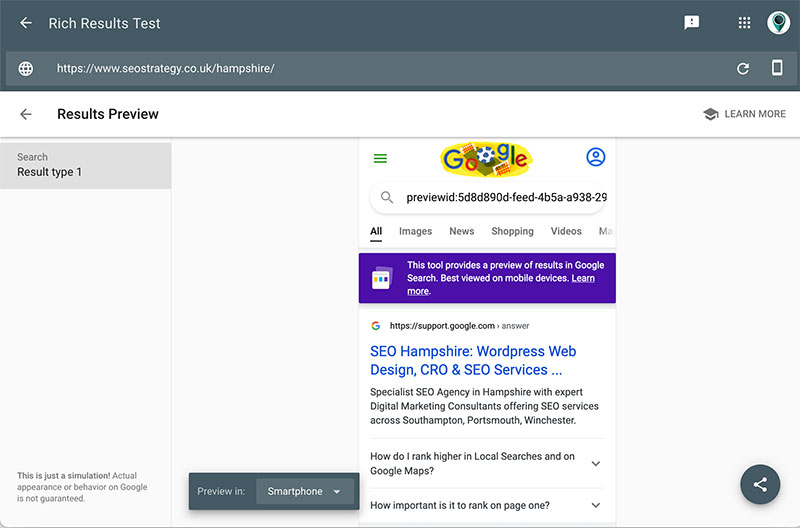 This article was written by Strategic SEO Consultant, Sean Mullins.